Mirrored from Sudopedia, the Free Sudoku Reference Guide
---
Gattai
Gattai is a Japanese word meaning merged or fused. In the world of Sudoku, this term is used for overlapping Sudokus. A number indicates how many 9x9 Sudokus are in the puzzle.
The overlapping regions always contain complete boxes, although it is theoretically possible to overlap any number of cells. For a puzzle maker, partial overlapping boxes are more difficult to create.
Many of these overlapping patterns have been named by their publishers. For each pattern, the most commonly used name is listed first, followed by alternative names.
Gattai-2
Sensei

| | |
| --- | --- |
| Sudokus: | 2 |
| Overlapping boxes: | 2 |
| Names: | Sensei, TwoDoku |
DoubleDoku

| | |
| --- | --- |
| Sudokus: | 2 |
| Overlapping boxes: | 4 |
| Names: | DoubleDoku, Gattai-Near-2 |
Gattai-3

| | |
| --- | --- |
| Sudokus: | 3 |
| Overlapping boxes: | 6 (5 x double, 1 x triple) |
| Names: | Gattai-3, Triple |
Gattai-4
Sohei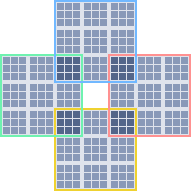 | | |
| --- | --- |
| Sudokus: | 4 |
| Overlapping boxes: | 4 |
| Names: | Sohei, Ring, Diamond |
Butterfly

| | |
| --- | --- |
| Sudokus: | 4 |
| Overlapping boxes: | 12 (8 x double, 4 x quadruple) |
| Names: | Butterfly, Gattai-Near-4 |
Flower

| | |
| --- | --- |
| Sudokus: | 4 |
| Overlapping boxes: | 9 (4 x double, 4 x triple, 1 x quadruple) |
| Names: | (open) Flower |
Gattai-5
Samurai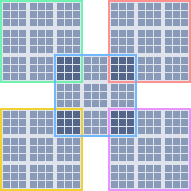 | | |
| --- | --- |
| Sudokus: | 5 |
| Overlapping boxes: | 4 |
| Names: | Samurai |
Flower

| | |
| --- | --- |
| Sudokus: | 5 |
| Overlapping boxes: | 9 (4 x triple, 4 x quadruple, 1 x quintuple) |
| Names: | Flower |
| Note: | This is indeed exactly the same as Flower (4). The central sub-grid in flower (5) is superfluous since all its rows, columns and boxes are already defined by one of the other sub-grids. |
Wing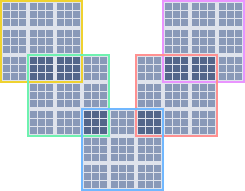 | | |
| --- | --- |
| Sudokus: | 5 |
| Overlapping boxes: | 6 |
| Names: | Wing |
Kazaguruma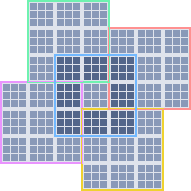 | | |
| --- | --- |
| Sudokus: | 5 |
| Overlapping boxes: | 8 |
| Names: | Kazaguruma (Windmill) |
Gattai-8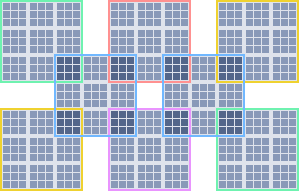 | | |
| --- | --- |
| Sudokus: | 8 |
| Overlapping boxes: | 8 |
| Names: | Gattai-8 |
Gattai-11
Shogun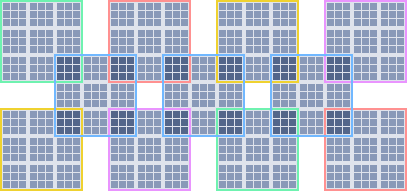 | | |
| --- | --- |
| Sudokus: | 11 |
| Overlapping boxes: | 12 |
| Names: | Shogun |
Gattai-13
Sumo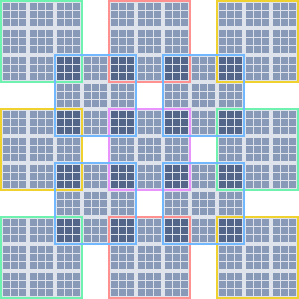 | | |
| --- | --- |
| Sudokus: | 13 |
| Overlapping boxes: | 16 |
| Names: | Sumo, Daimyo, Harakiri |
Gattai-25
Shaolin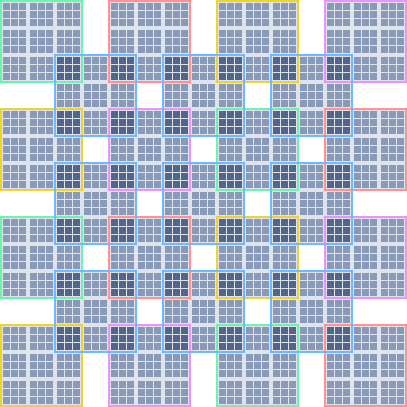 | | |
| --- | --- |
| Sudokus: | 25 |
| Overlapping boxes: | 36 |
| Names: | Shaolin |
See Also
---